New Year and a new Suicide Squad trailer. It's getting to the point that I think I might have seen the whole film before I even get to the theatre, either that or it going to turn out to be a TV show with 32 episodes.
There is more of the same in the new trailer. More of the team. More lining up the characters you might not know and telling you how bad they are.
Interestingly, there are a couple of insights into the villain. Is it the Joker? Or is it more magical? Possibly to do with the Enchantress. At one point a the foot demon is seen ripping through a subway train. Related to the Joker or something else. There is evidence of the Joker with Harley Quinn. Is there evidence of the Joker downtown where all the mayhem happens? Not really. It is possible that the villain is yet to be revealed. It is possible that with all these exaggerated characters, the villain is going to be a little more ordinary (there has been rumours it is Ed Harris playing Antiphon who look like a smug looking white guy).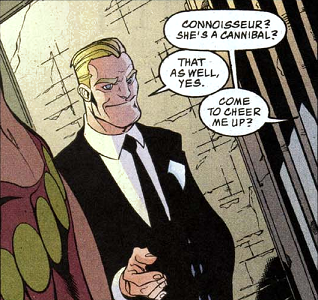 Hello Antiphon, you look mighty boring among such outrageous characters.
Whoever the villain is (it might just be like Guardians of the Galaxy and not really matter) it looks like the team is more than going to make up for any shortcomings. Or it could just be all released in the next trailer because there is still another seven months until it is released (5th August). More than enough time for another two, maybe three trailers.